Location
More than just a ski trip – experience the culture, food, famous hot springs and unique Japanese Charm in Nozawa Onsen, Japan.
Nozawa Onsen is like a true Japanese ski resort Shangra La. From the Mountain Peaks on a clear day you can see the Sun Set into the Ocean. The town has some amazing traditional architecture with Temples, Hot Spring Houses, and traditional Inns.
It is one of the richest sources of Hot Springs in Japan and there is a myriad of water flowing from the mountains and springs throughout the village leaving its soothing sound as it passes.
Please have a look at the attached maps to see the position of Nozawa Onsen in Japan and also the great position of Lodge Nagano in the Village. Lots of great places to eat and check out nearby.
Map
Our properties are all well located very close to the snow, please have a look at the below maps (click for the PDF file) to see the position, lots of great places to eat and local landmarks.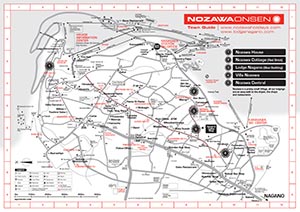 Getting To Nozawa Onsen – Check Out The Train & Bus Timetable Here